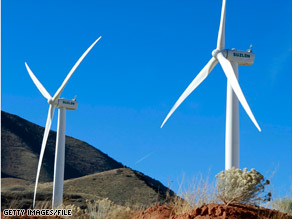 Growing excitement, expectations for green jobs corps
Excuse me VP Biden - please help me out.
IF one of the key hurdles to the adoption of "Green Energy" is going to be the comparative higher costs as related to oil and coal.....how is it that you can dangle the carrot of "$50 per hour jobs" as a justification? Do you notice that you all focus more on the WORKER'S benefit by the Green jobs than you focus on the CONSUMER who will have to purchase this equipment and install it?
There is a lot of smoke in the air, Mr Biden. I hope that when it clears that you can substantiate your claims.
At a summit in Philadelphia on Friday, Vice President Joe Biden said people who make $20 per hour before a green jobs training program can make $50 per hour after. On average, the clean-energy jobs pay 10 to 20 percent more than similar work outside the field, he said.

Adding to the enthusiasm, Biden cited a recent case in Chicago where a maker of energy-efficient windows intends to gradually rehire 250 workers who were laid off when their window company closed late last year.

There is a "very direct" correlation between the stimulus package and Serious Materials' ability to reopen the plant, said Sandra Vaughan, chief marketing officer for the California-based company.

But not all signs for green industries are so positive.

Wind and solar companies have cut staff and stalled new projects as the credit crisis has tied up money, meaning banks are less able to invest in renewable energy.

In the short term, that will make things difficult for the newly trained green work force, said Kathy Werle, dean of applied sciences and technology at San Jose City College, in California, which offers associate degrees in solar panel installation.

"Right now, money is so tight. People can't borrow money to put solar on their homes," she said.