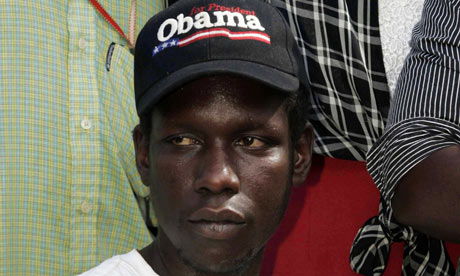 Obama's brother on drugs charge
Unlike some others - I will post this for informational purposes rather than attempting to make the case that there is a family pattern involved with this drug issue.
Tomorrow morning, President Barack Obama will sit down in the White House to receive his daily intelligence briefing from security officials. Thousands of miles away in Kenya, his half-brother will be facing a rather different audience in a Nairobi courtroom.

George Obama, 26, was arrested yesterday for possession of marijuana, after allegedly being caught with a single joint of "bhang" near his home in a Nairobi slum. There was no suggestion that Obama was trying to deal in the drug but, according to Joshua Omokulongolo, the area police chief, rules are rules. "He is not a drug peddler," said Omokulongolo, "But it's illegal, it's a banned substance."

According to CNN, George Obama disputed the charge. "They [the police] took me from my home," he said. "I don't know why they are charging me."

The episode is the latest sad chapter in the life of George Obama, who has largely lived in poverty while his increasingly famous half-brother made his way from Harvard to the Senate and then the White House. While he shares the same father as the US president, he barely knows him and did not attend the inauguration with other Kenyan relatives in Washington last month.

The last of Barack Obama Sr's eight children, George Obama was born less than a year before his father died in a car accident. Four of his half-siblings were born to a Kenyan wife, Kezia, and three - including Barack - to two American women. George's mother Jael is also Kenyan, but he missed out on the opportunities afforded to his half-brothers and sister, most of whom have studied and lived overseas.